GLOW is an American comedy-drama television series created by Liz Flahive and Carly Mensch. The series is a fictionalized account of the characters and situations of the Gorgeous Ladies of Wrestling. Created by David McLane in the 1980s, the Gorgeous Ladies of Wrestling was a women's professional wrestling circuit. The first season is ten episodes long, and was released via Netflix on June 23, 2017. The second season, also ten episodes long, was released via Netflix on June 29, 2018. On August 20, 2018, Netflix announced that GLOW was renewed for a third season.[1] This third season premiered on August 9, 2019.[2] The series was renewed for a fourth and final season on September 20, 2019.[3] Prior to the show's renewal, show cast member Kate Nash pitched several ideas for possible fourth season plotlines in an interview with Digital Spy.[4]
Episodes of the series typically run about 30-35 minutes, though the finale of the second season has a runtime of approximately 46 minutes.[5]
A comic series based on the franchise has also been released.
Set in Los Angeles in 1985, Ruth Wilder is a struggling actress who receives an invitation for an audition along with dozens of other women in a fledgling professional wrestling promotion called the Gorgeous Ladies of Wrestling (GLOW). Ruth's tendency to overact in the ring sets her at odds with the director of GLOW, Sam Sylvia. A further complication is Ruth's affair with the husband of her best friend, Debbie Eagan. The resulting feud makes the pair GLOW's top stars.
The GLOW program is canceled by K-DTV at the end of the second season. The program, however, is given new life as a live show when Sandy Devereaux St. Clair agrees to host the show at the Fan-Tan Hotel & Casino in Las Vegas. There, the cast faces new challenges, including being separated from their families. While the show is initially contracted for three months, the run is so successful that it is extended to a full year.
Recurring
Edit
Shakira Barerra as Yolanda "Junkchain"
Several professional wrestlers made cameos throughout the season. These include John Morrison as Salty "The Sack" Johnson, a trainer who appeared the first episode, Brodus Clay and Carlito, who played Carmen's wrestler brothers, Joey Ryan, as a wrestler known as 'Mr. Monopoly', Ryan's real-life wife and wrestler Laura James played his valet 'Crystal', Alex Riley who played a wrestler known as 'Steel Horse', Brooke Hogan as night club manager Amber Fredrickson, and Christopher Daniels and Frankie Kazarian as unnamed wrestlers.
Production
Edit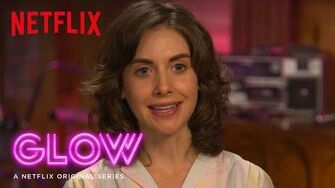 The idea for the series came when Flahive and Mensch, who at the time were looking to make a new female-centric show, came across the 2012 documentary GLOW: The Story of the Gorgeous Ladies of Wrestling. Before this series, neither woman had heard of the GLOW wrestling league, and they became intrigued by the premise of producing a fictionalized version of it. Both women found the storyline intriguing as a way of exploring the aftermath of the 1970s Woman's Liberation Movement, with Flahive's telling Rolling Stone "We wanted to look back on the 1970s, coming out of the women's movement, and into the 1980s, and ask the question: Did it work? Did things get better?" To this end, it was important for the series to maintain a tension between whether or not the league was exploiting women or empowering them.
The show's theme song is "The Warrior" by Scandal and featuring Patty Smyth.[6]
The series features a diverse mixture of songs from its 1980s setting, as well as number of songs from other eras. Visit here for a more complete listing of songs featured within the series.
Reception and Awards
Edit
GLOW was praised by critics upon its release; receiving a 97% approval rating from review aggregation site Rotten Tomatoes, the site's consensus being "With spot-on 1980s period detail, knockout writing, and a killer cast, GLOW shines brightly." The series has a Metacritic score of 81 out of 100, based on 35 critics. Darren Franich of Entertainment Weekly gave the first season an A rating, calling it "a silly-smart masterpiece, with an ensemble cast entirely made up of breakout characters". Sophie Gilbert of The Atlantic said, "...it's just a blast to watch women having so much fun. GLOW fully owns its campiness and its showy aesthetics, but it's smart and subversive underneath the glitter."
Although the series is not among the most watched on Netflix, it is considered important to the service due to its creative executive and status as an awards contender.[7] The series was very nearly canceled after its first season, due to low viewership, but was renewed due to a number of factors.[8]

In 2018, the program's first season won two Emmy awards for Outstanding Stunt Coordination for a Comedy Series or a Variety Program and Outstanding Production Design for a Narrative Program (Half-Hour or Less). Additional awards won by the program include a Screen Actors Guild award for Outstanding Action Performance by a Stunt Ensemble in a Comedy or Drama Series, and an Art Directors Guild Excellence in Production Design Award in the category Half Hour Single-Camera Television Series in both 2018 and 2019. In all, the series was also nominated for an additional 66 awards.[9]
Though not always, episode titles often come from a line spoken by a character. For example, Sheila tells Ruth Wilder in regards to Debbie "Slouch, submit, she might kill you" in "Slouch. Submit."
External links
Edit
References
Edit
Community content is available under
CC-BY-SA
unless otherwise noted.